Siglos Karaoke Professional
Siglos Karaoke Professional is a full featured karaoke hosting application that will improve the quality of your shows. Run your shows with a laptop computer and do away with the nuisance of karaoke discs.
Searches for and plays karaoke videos directly from YouTube.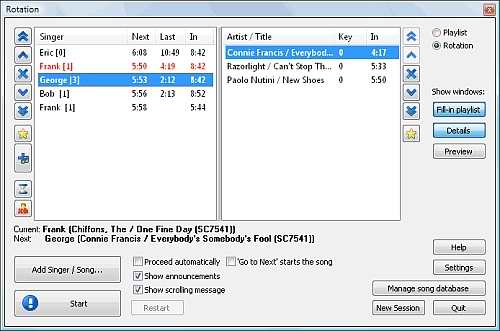 Features
Dual screen display with advanced display features improves the visual appearance of the lyrics.
Searchable song database lets you very quickly locate any song.
Automatic singer rotation organizes the singer lineup and allows you to add or remove a singer and song requests at any time.
Singer announcement lets your singers know who will be up next.
Singer history allows you to easily add your regular singers to the queue.
Song silence detection removes the silence from the beginning and end of songs thus allowing more songs to be performed in a set time period. Key changer to change the key of a song in up or down steps before or during a song.
Have your show run in Automatic mode if you are unable to operate the computer.
Play CD+G discs that are brought in by a singer and placed in the singer's queue.
If you cannot see the singer's display, use Preview window to see what singer sees.
Playlist view lets you view the songs in the queue rather than the rotation order.
Song information can be exported from the database to be used in song book applications or spreadsheet programs.
Search for YouTube karaoke videos and add them to the playlist.
Supported File Formats:
BIN, MP3+G, ZIP, MIDI Karaoke (MID and KAR), and KMA. Video formats AVI and MPG.
External Monitor Support:
Use the extended desktop feature of the computer to display the workstation on one monitor and the karaoke on another.
Song Database:
Siglos Karaoke Professional will scan the hard drive for karaoke songs and create a searchable index.
Works with Windows XP, Vista, 7, 8, and 10