The MP3+G Download Guide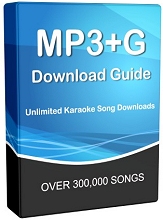 Download unlimited professional quality karaoke songs with on-screen lyrics! Play the songs on your laptop, desktop, or favorite karaoke app. Use them to create CD+G discs that will play in virtually any karaoke machine.All songs are in the zipped MP3+G format which is supported by virtually all karaoke software players, hosting applications, and CD+G disc burning programs.
Real Karaoke Songs Just Like The Professionals Use!
All Music Genres Are Available
Country - Gospel - Oldies - Pop - Rap - Rock - Today's Hits

New Releases Become Available Regularly!

24/7 Access
Over 300,000 Karaoke Songs To Choose From!
NOT

a Subscription -

NO

Monthly or Annual Fees -

NO

Pay Per Song

What is MP3+G?
By far the most popular karaoke song format is CD+G (Compact Disc plus Graphics). More karaoke songs are found on CD+G discs than all other karaoke disc types combined. These are the type of songs that you sing to at karaoke bars or wherever professional karaoke is being performed. MP3+G (MP3 plus Graphics) is simply the compressed version of CD+G disc songs much like MP3 is the compressed version of a standard CD songs. This allows them to be played with computer software and to save space on a hard drive without sacrificing quality.
How this works:


Karaoke lovers from around the world have joined together to share their private collections of karaoke song files with you. This is the world's largest and most secure online karaoke community.

Follow the step by step instructions including high quality screenshots. The guide will show you every step of the way what you should see on your monitor.

One-time fee. No extra cost for any software to download or convert the files. Don't get duped into some $2 per song deal where you also have to purchase their expensive software.

In addition to the well written instructional and picture guide, you will connect to a private network where help is available online.
System Requirements: Any computer running a Windows operating system.