Power CD+G Player Pro
This software CD+G karaoke player lets you play CD+G discs from most CD and DVD drives. It also plays BIN, MP3+G, and Zipped MP3+G files. It will turn your PC into a karaoke machine.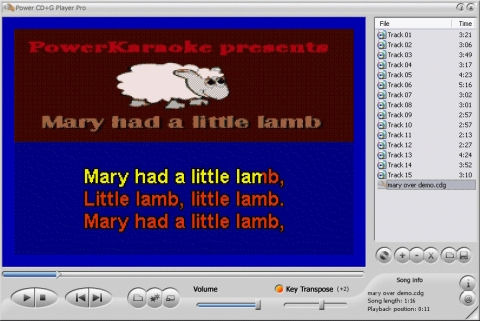 Important:
Your CD-ROM drive must be capable of extracting CD+G subcodes. Most modern drives have this capability, but there is no guarantee it will work properly on every drive. We recommend that you
try the demo version
of this program before buying it.
Features
Play CD+G Discs with most CD and DVD drives.
Plays BIN, MP3+G, and Zipped MP3+G files.
Plays any multimedia format such as AVI and MPEG that are supported by your system.
Jump to any place in a song using the Seekbar.
Full screen mode.
Use playlists to manage your karaoke song collection.
Key Changer to make the music fit your voice.
Works with Windows XP, Vista, 7, 8, and 10