Karaoke Sound Tools 2
Karaoke Sound Tools 2 is a very user friendly program for processing karaoke audio. A unique feature of this software is its ability to change the tempo of a BIN or MP3+G song while simultaneously keeping the lyrics synchronized. Other companies sell these tools separately at high prices but are unable to measure up to the quality of Karaoke Sound Tools.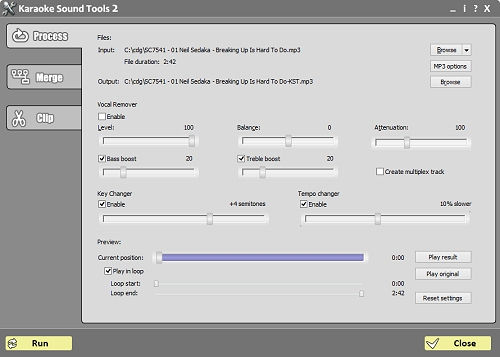 The program includes three components.
Key Controller
Change the key of the song to fit the singer's voice.
Adjust the key in half note steps from -12 to +12.
Key adjustment does not change the tempo of the music.
BIN and MP3+G karaoke files that contain lyrics can be processed.
Tempo Adjuster
Increase or decease the speed of the song
Tempo can be changed from from 200% slower to 200% faster.
Changing the tempo does not change the key of the song.
Does not effect lyric synchronization of karaoke files.
Vocal Eliminator
Eliminate vocal elements from CD song tracks.
Adjust the level of bass and treble.
Eliminate vocals from non-centered sound tracks utilizing the balance control.
Control the level of vocal removal and output attenuation .
Clip
Remove starting and ending part of a CD+G song.
Process any number of MP3+G, ZIP, or BIN files at once.
Remove silence (dead air) at the beginning or at the end of a song.
Remove the beginning of a song and start at the exact moment (this can be used to remove logos or images from songs).
Merge
Combine any number of MP3+G, ZIP, or BIN files.
Remove silence (dead air) between songs.
Advanced Preview
Real time monitoring of the processing.
Position of the playback can be controlled.
Looped playing feature for fine tuning selected portions of a song.
BIN, MP3+G, MP3, and WAV files are supported.
Works with Windows XP, Vista, 7, 8, and 10