Vogone Advanced Vocal Eliminator

Over the past 42 years Vogone has progressed with each upgrade to deliver the best sounding vocal removed music. After decades of engineering, it now simply changes your focus from removing the vocals to preserving the music while you eliminate the vocals.

Every unique song will sound like it was mixed in the recording studio. Your friends will be amazed as your library of vocal removed karaoke songs grows... at higher quality than ever before.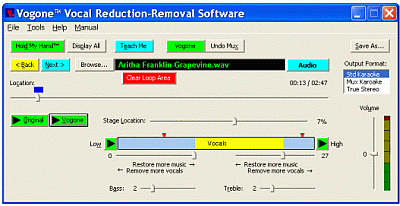 Features:
On-Screen Hold-My-Hand Steps Guide
Import CD Tracks Directly
Vogone is unique among other vocal reducer programs and expensive boxes
Use Your Karaoke BIN, KMA, ZIP, MP3+G, WMA+G, WAV+G Files
Use Your Audio MP3, WMA and WAV Files
Remove Center Panned Vocals
Remove Off-Center Vocals
Adjust For Quality Music
Boost Music Bass And Treble
Create 2-Track Monaural Files
Create Stereo, Karaoke, or Multiplexed Files
Reverse Or Create Karaoke Multiplex Songs
Instantly Play Anywhere
Boost The Volume
Professionally Written Manual
Requirements:
Windows 2000, XP, Vista, or 7
1GHz+ processor
256MB RAM
Recommend at least 500MB free hard drive space

Price $59.99


For the Next you can

Save 20%

off the above listed price of Vogone. Simply enter Coupon Code

MAR2015

during checkout.





Karaoke Software FAQ
Karaoke Software Tutorials