Video Hoster
The Only Fully Integrated Product for Karaoke Hosts and Professional Singers
. Go digital and take your shows to a whole new level. Setup shows in a matter of minutes... provide your singers with perfect CDG karaoke graphics and lyrics... increase the number of songs per show you can allow your singers... assure that you will have return customers. There is abslutely no other software that has as many professional features as Video Hoster. For the professional who truly wants to wow the crowd this is the ultimate hosting application.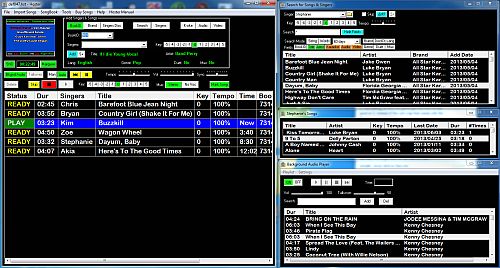 Now with SongBookDB integration that lets your singers look through your digital songbook and send you song requests with their cell phone or other mobile device and an Integrated Song Store that allows you to purchase songs that are 100% legal in the USA for public use from Karaoke.Net.
Just A Few Of The Features:
Very easy to learn and use even for the non-technical person.
Eliminate the hassle of storing, hauling, and handling discs.
Run limitless show rotations in a single playlist.
Increase the number of singers per hour.
Add songs at any time... even while a singer is performing.
Busy shows become less stressful while freeing you for more interaction with the crowd.
Ripped CDG song tracks will have superior quality graphics and lyrics.
Touch Screen support allows all functions without a keyboard or mouse.
MP3+G, WMA+G, ZIP and Video files can be indexed, played, and printed in song books, without conversion.
BIN files may be imported as KMA files saving a lot of disc space.
Import song tracks from a singer's disc and return their disc before they leave your table (song tracks are automatically deleted after playing).
Karaoke songs can be played with Audio and Video intermixed AVI, DVD, MP3, MPG, VCD, WMA, WMV, and other formats
The professional database lets you find songs quickly.
Change the key of a song instantly before or while it is playing.
Keep a song history of all your singers along with key control settings.
Slideshow feature.
Song Books are created automatically and new songs are added to New Release pages.
Much, much, more!
Full Product Information
Works with Windows 7, 8, and 10 (32 & 64 Bit)