PCDJ Karaoki
PCDJ Karaoki is a professional karaoke hosting application that has integrated access to the Karaoke Cloud Pro subscription service.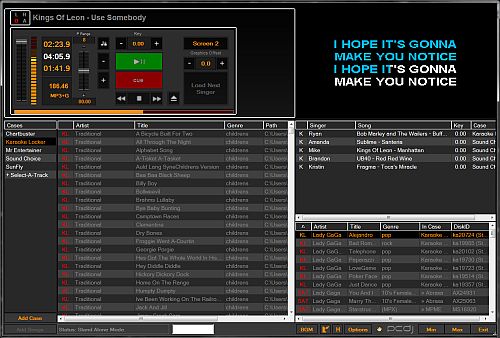 Karaoki Features
Integrated Karaoke Cloud subscription service that gives instant access to thousands of popular karaoke songs.
Integrated Karaoke Locker and Select-a-Track karaoke song download stores.
Supports MP3+G, Zipped MP3+G (zip 2.0), WAV+G.
Video Playback Support (computer must have the proper codecs installed)
Play song files from internal or external hard drive.
Key-control (half steps in semi-tones).
Ambient Music Player.
Song import by MP3 ID tag or file name.
Song Search
Singer History
Auto Play (Auto Karaoke)
Drag and Drop entering and Singer Rotation re-ordering.
Song book print out from directly within the program.
News Ticker.
Subsequent five singers scrolled on the karaoke screen.
Remote touchscreen terminal compatible utilizing a wired or wireless network.
Works with Windows XP, Vista, 7, 8, and 10