Microstudio Karaoke Software
Microstudio is the "Swiss army knife" of karaoke software. It will copy CD+G discs, create custom CD+G discs, create CD+G discs from MP3+G files, and rip song tracks from CD+G discs. It will play CD+G discs and MP3+G files. It has key control and vocal remover features. It will also let you record your singing performances.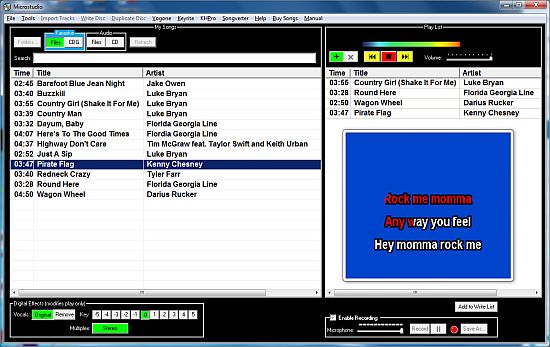 Create Custom Assembled Disc
Write Disc List is a hard drive stored file that holds the songs you want to burn to a disc. You can add them from the Import Tracks screen, from the Playlist, and from the Write Disk screen itself.
Import All or Selected Songs so you can select or deselect all tracks to import in one pass. You can enter a Title and Artist for each song, or use its filename, or use Autonaming.
Writes KMA, BIN, CDG, MP3+G, ZIP, MP3, WMA, WAV Files to CDG or CD Discs. These format files can add into the Write Disc list, either alone or in any combination.
Write Karaoke CD+G or Audio CDDA Discs. When writing to a Karaoke CD+G disc, the KMA, BIN, CDG, MP3+G and ZIP files show their lyrics, but audio only files show blank lyrics. When writing an Audio CDDA disc, all lyrics are stripped and only the music is written.
Export Write Disc List as RTF Format File for Label that can be opened in Wordpad or Word to format for a disc label (label printing not included). It includes columns and font point and size you can change
Import Tracks
Rip/Import to Hard Drive as MP3+G, ZIP, or WMA+G files from Karaoke CDG disc.
FreeDB Lookup Over Internet is now provided. If the disc is found in this database, it returns the Title and Artist for each track. When disabled, it does not connect to this database, but still allows entering the Title and Artist for each track to import, or enable autonaming.
Disc Media List allows selecting to write an 80 min, 74 min, 21 min or 18 min disc.
Select a Default Import Hard Disc Drive to save your files to. This verifies a Hard Disc Drive (HDD) is selected, not a CD/DVD drive.
Duplicate Disc
Duplicate Just About Any CD Disc including CD, CDG, VCD, CDROM, even DVD single layer with a DVD Burner. Use one or two drives to speed up duplication.
Test Before Write allows testing drive, cables, controller, even the image file. Then, convert from testing to writing without re-importing the image.
Playing
Plays KMA, BIN, CDG, MP3+G, ZIP, MP3, WMA+G, WAV Files. These format files can add into the Playlist in any order.
Play CD Tracks or Hard Drive Files with the same flexibility that Microstudio has given users for years.
The Hard Drive Button displays the default hard drive folder's contents in the Song List window. You can select one or more and add them to the Playlist. If you double click a song in the Song List window, it is added to the Playlist and starts playing it.
The Disc Tracks button reads the contents of the Disc in the default drive. If Enable FreeDB Lookup is enabled, FreeDB is searched for this disc and if found the Title and Artist names are filled in. If disabled, or the disc is not found, the Track# appears in the Title field and "Unknown" in the Artist field. Once the list appears, you can click and add one or more tracks to the Play List. Tracks are accessed and copied to the HDD where they can be played instantly.
Song List Window displays either Karaoke or Audio type files available in the selected default folders. All found files are shown in alphabetic order. You can click on any column title to order the list by A-Z in that column, or click a second time to reverse the order to Z-A.
Double-Click in Play List and Song List to Play or click the normal Play button.
Search Song List temporarily changes the Song List to only show what matches your entered search string. The Show All button restores the full Song List.
Duration Counts Down while playing to show the remaining time.
Unlimited Songs on the selected default hard drive folder can play in any order.
General Features
Supports MANY CDR/DVDR Drives. Microstudio 4.0 no longer requires a drive that does "hardware error correction" to import or write Karaoke CDG discs. Thus, almost any drive can be used.
Fixed Bug That Shortened Imported Files by 2 Seconds so the full song is imported.
Select Default Read and Write CD/DVD Drives is easy from the list of all drives on the computer. Columns show Karaoke Read (Yes/No), Karaoke Write (Yes/No).
You can individually select to hide or use each drive for Karaoke and Audio Reading and Writing drives.
Record Your Singing
Version 4 gives you microphone controls to just record the microphone sound. But that's not all! Whenever a song plays and you sing with the Mic it automatically records to insure you never miss a good take. You simply click the Save As button after play stops to name and save that song to any folder. The next song or recording overwrites a prior unsaved song so unwanted songs don't fill up your hard drive.
Volume Controls
You now can directly adjust the volume levels of the music, the microphone input and the mix of the two being recorded.
Live Key Change
Finding a song in exactly your key is not always possible. Now you can click the key change buttons while playing to shift the music to your range so you don't strain your voice. You can go up or down 5 half-notes. The tempo doesn't change so the music playing time remains the same.
Vogone Easy Vocal Reducer/Remover(a $29.95 value)
Microstudio 4.000 has Vogone Lite built in, with 3 presets you can select. This allows removing or reducing the vocals in audio files. Users report that with some songs, due to the high quality filtering and bass and treble boosts the music can sound better than the original.
New Play Controls
Clicking the Restart icon plays the current song from the start, and double clicking now plays the PRIOR song. The Play Next icon stops the current song and starts the next song.
My Songs and Play List
These windows make it very easy to locate your imported songs and play them or add to custom list projects to write to discs. Version 4.000 allows drag and drop from My Songs to the Play List. Full Hot Key support allows you to control by the keyboard and/or with the mouse depending on your preference.