LYRX Karaoke Hosting for Mac Computers
LYRX is a professional karaoke hosting application for Mac computers. It supports playing MP3+G, Zipped MP3+G, and many popular audio and video file types. While this software contains features used for professional karaoke hosting, it is also well suited for the casual home user.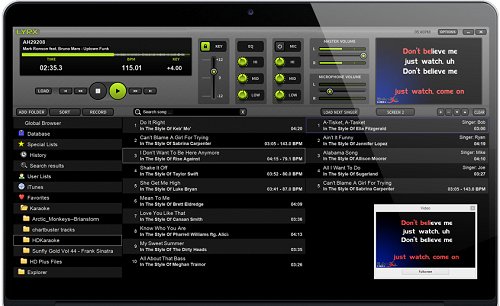 Features Include:
Supports all the popular karaoke and video file types.
Remote monitor support for displaying the karaoke on a separate monitor or tv.
Song file browser will allow you to import and easily manage over 1,000,000 files.
Search-as-you-type to locate songs immediately to send to rotation or load into the LYRX deck.
Import iTunes playlists.
Key-control (half steps in semi-tones).
Singer rotation with drag-and-drop ordering.
Next Singer Display will display the next 3 singers on singers screen between songs.
Microphone support for vocal recording.
Low Latency Control with support for Core Audio
Built in 3 Band EQ
Dynamic Resizing Graphics that fit any display, with retina display support.
Supported File Types:
MP3+G and Zipped MP3+G karaoke files.
AVI, MP4, DIVX, and Flash video files.
AIF, FLAC, MP3, M4A, OGG, and WAV audio files.
System Requirements:
OSX 10.8 (Mountain Lion) or greater
2.5GHz Intel Core 2 Duo / Core 2 Quad / Core i3/i5/i7
4 GIG RAM or Better
Dedicated Video Card or Intel 3000 series (or Iris) or better
200 MB free on the hard-drive