Karaoke Video Creator
Karaoke Video Creator is a user friendly program for creating video karaoke songs in the AVI or MPEG format. With it you can create a video karaoke song from start to finish or import MIDI Karaoke files. An integrated feature allows you to search for MIDI karaoke on the internet. Any MP3 or WAV file may be used as a backing track. The integrated Power Vocal Remover lets you remove the lead vocal from many standard songs.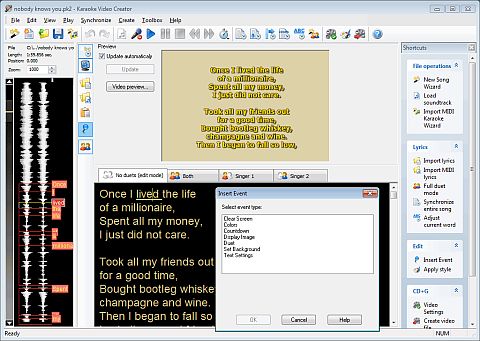 Karaoke Video Creator is designed to be as easy to use as possible. Step-by-step tutorials will show you how to enter lyrics (or look them up on the Internet), how to synchronize them with music, and how to create karaoke videos in a matter of minutes. Advanced options allow to fine-tune karaoke videos (you may insert background images and videos, create title and credits screen, change font, display images, and more). Karaoke Video Creator duets feature allows to create video that two singers can sing at the same time.
Features:
Create karaoke versions of your favorite songs with lyrics, title image, and credits image.
Use Vocal Remover to remove vocals from CD recordings and create karaoke songs from them.
Convert MIDI Karaoke (KAR) to karaoke videos.
Add extra dimension to karaoke videos with backgrounds, scrolling lyrics, colors, images, countdowns, and other cool features.
Create karaoke songs in AVI or MPEG format that will play on any computer or can be shared online on video sites like YouTube.
Create karaoke for iPhone and iPod.
Works with Windows XP, Vista, 7, 8, and 10