Karaoke Player Software
Play karaoke discs and the various karaoke file formats on your PC or laptop. Geared toward the home user these programs are not meant to be used for hosting karaoke shows.



Power CD+G Player Pro
Power CD+G Player Pro is a CD+G karaoke player. It allows to play CD+G discs directly from most of CD-ROM drives and also supports BIN and CDG (MP3+G) file formats. It will convert your PC into a karaoke machine.
Siglos Karaoke Player/Recorder
Siglos Karaoke Player/Recorder is a software CD+G disc and karaoke file player that will record your singing performance. Supports YouTube videos. Recordings can be saved as MP3 or WAV files used to burn a CD or share with others.
WinCDG Pro 3
WinCDG Pro 3 will play CD+G and CD-Audio discs. It also includes the basic import (or "ripping") from CD+G to MP3+G.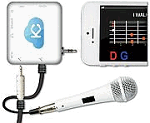 Acesonic Sing n Jam
Mobile Device
Karaoke Mixer System