Karaoke DVD Burner
Compile and burn compilation DVD discs from CD+G disc song tracks, MP3+G files, AVI and MP4 video files, or any combination of these. The DVD will play in a standard DVD player.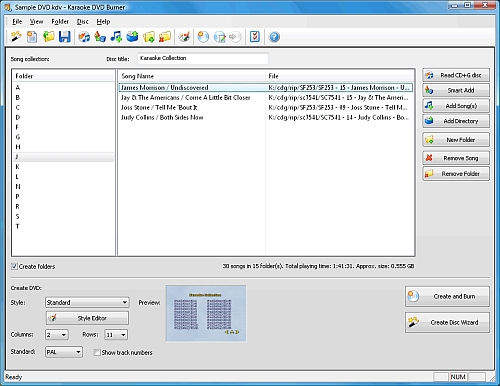 With Karaoke DVD Burner you can:
Create DVD karaoke discs with compilations of CD+G songs.
Convert several CD+G discs into single DVD disc.
Burn karaoke discs using your computer's DVD writer.
Make discs containing hundreds of songs.
Burn MP3G files to DVD discs.
Easily select songs from DVD disc using multilevel menus.
Create your own look and feel of a disc.
Scan hard disc for karaoke songs and place them on DVD.
Works with Windows XP, Vista, 7, 8, and 10